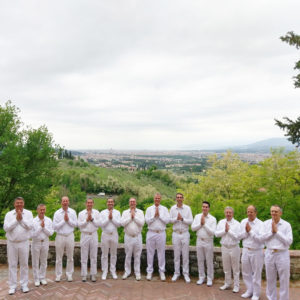 There is no getting away from it, we are living in dark and dangerous times for the world – a world riven by conflicting ideologies, by separation and mistrust, doubt and fear. Yet in the face of all that we still have hope, we still work towards something better, in whatever way we can. And this recording of spiritual songs sung by an international choir is in its was an offering to that process, that reaching towards light and peace.
The very name of the choir – Oneness-Dream – indicates a positivity, an aspiration towards something higher. If we can dare to dream of a oneness-world, then one day that dream may become a reality.
The inspiration, the driving force behind this choir, is one remarkable man, Snatak Kjeld from Iceland. A classically-trained pianist and a fine singer himself (as well as an accomplished athlete) Snatak was stricken by a devastating illness which has progressively reduced his mobility and his speech. But rather than giving up, he was inspired to bring together many of his singer-friends from around the world to form this male voice choir, performing songs composed by his teacher Sri Chinmoy who was himself the most inspirational of teachers. Sri Chinmoy, who passed away in 2007, was a poet and musician, an artist, a philosopher, and above all, a man of peace.
The choir's first tour, in 2011, was appropriately enough, in Iceland – ten concerts in the space of a week – and it became clear that what the choir had to offer was something quite special – a beauty and simplicity, an intensity that went beyond performance into something purely devotional.
Over the next few years the choir regrouped to undertake similar tours (or perhaps pilgrimages) in different parts of the world – Myanmar, Scotland, Ireland, USA – culminating in this year's visit to Tuscany, the heartland of Italy. Sri Chinmoy was often described as a Modern-day Renaissance Man, so where better to sing his immortal songs? This was the place that gave birth to Dante and Leonardo Da Vinci, at a high point of western culture, a place whose artists strove to achieve Piu bello che si puo – the most beautiful possible. That was the dream of the architects and visionaries who built the city of Florence where Oneness-Dream came centuries later to sing in praise of the highest and best. From Florence the choir travelled in giro around this most beautiful part of the world – to Lucca, Vince, Pisa… Once again it was intense – 31 concerts in 10 days, in tiny family chapels and huge ornate cathedrals, singing, singing, singing. The present CD is from recordings of those concerts and is among the group's finest to date.
The CD is being launched back in Iceland, bringing things full circle. The launch coincides with the release of a short and very moving film about Snatak – Seeker, by Sanjay Rawal, premiered at the International Film Festival in Reykjavik. The film and the CD are heartfelt tributes, reminders of who we are and what we can be.
---
Choose a venue to see and hear more …